Version 0.9.0 Release
Backups, DeSEC DNS and more!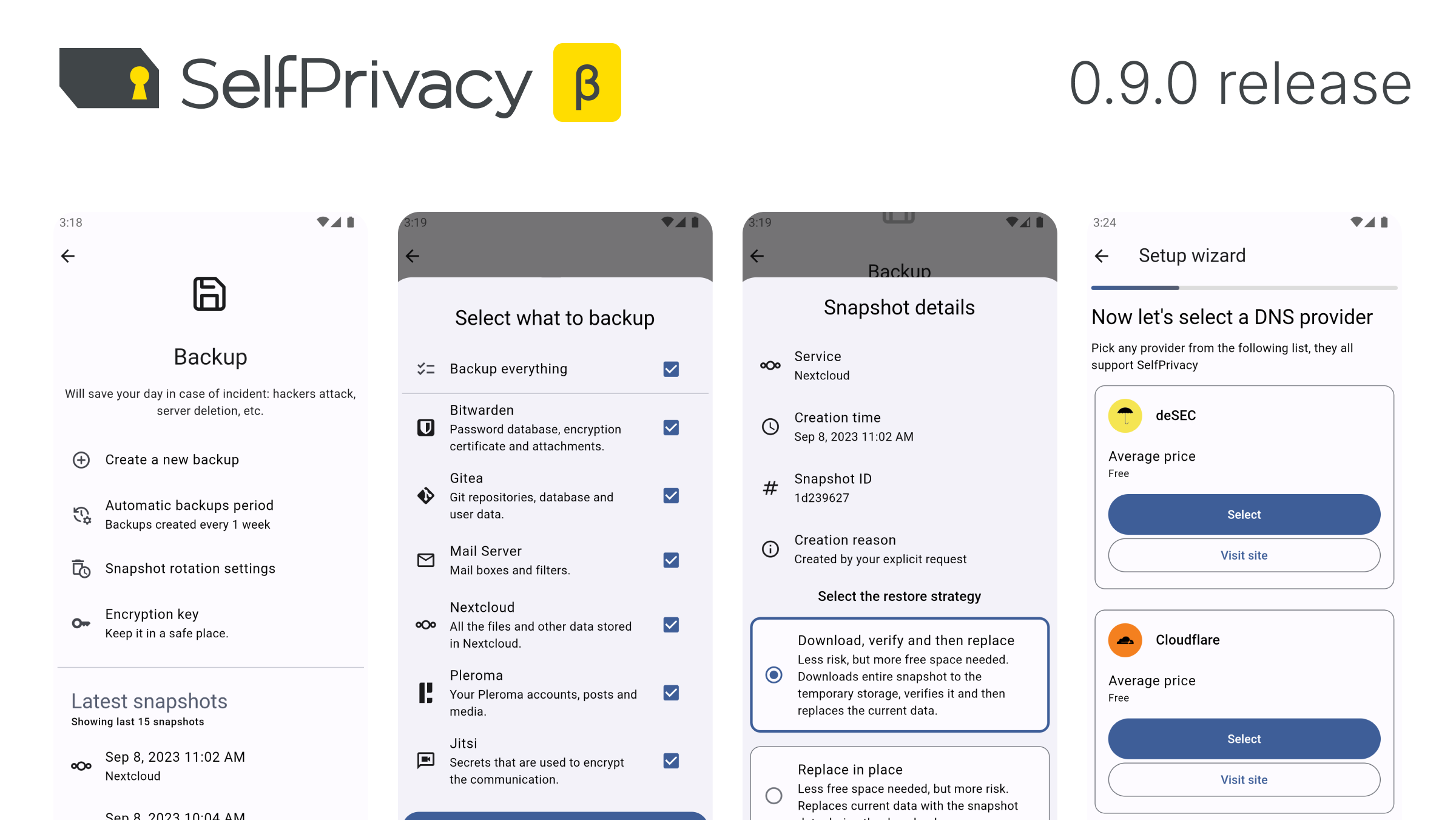 Changelog
Features
DeSEC as a DNS provider (#211)
DigitalOcean as a DNS provider (#213)
Support drawer and basic support documentation logic unit (#203)
Automatic day/night theme (#203)
New router and adaptive layouts (#203)
New Material 3 animation curves (#203)
Add jobs button to the app bar of more screens (#203)
Refreshed UI of modal sheets (#228)
Support for XDG_DATA_HOME storage path on Linux for app data (#240)
New app log console (#203)
Bug Fixes
Refactor
Migrate to Flutter 3.10 and Dart 3.0
Migrate to AutoRouter v6 (#203)
Get rid of BrandText and restructure the buttons (#203)
Remove brand alert dialogs and bottom sheet (#203)
Remove unused UI components (#203)
Remove BrandCards (#203)
Allow changing values for TLS settings
Replace String shortcode with Currency class (#226)
Rearrange Server Provider interface (#227)
Remove unused service state getters (#228)
Remove unused utils, add duration formatter (#228)
Move rest api methods according to their business logic files positions (#235, partially resolves #217 and #219)
Translation contributions
Ukrainian

FoxMeste (3)
Mithras (31)

Latvian

German

Mithras (41)
FoxMeste (213)

Thai

Polish

Mithras (41)
Thary (43)
FoxMeste (163)

Slovenian

Czech

NaiJi ✨ (2)
Mithras (109)
FoxMeste (308)

Russian

FoxMeste (4)
Revertron (8)
NaiJi ✨ (23)
Mithras (54)
Inex Code (59)

Slovak

Mithras (29)
Revertron (396)

Macedonian

Belarusian

Thary (1)
FoxMeste (3)
Mithras (47)

French

Spanish

Azerbaijani

Mithras (28)
Ortibexon (403)
Version 0.8.0 Release
Digital Ocean support, new setup UI, and more!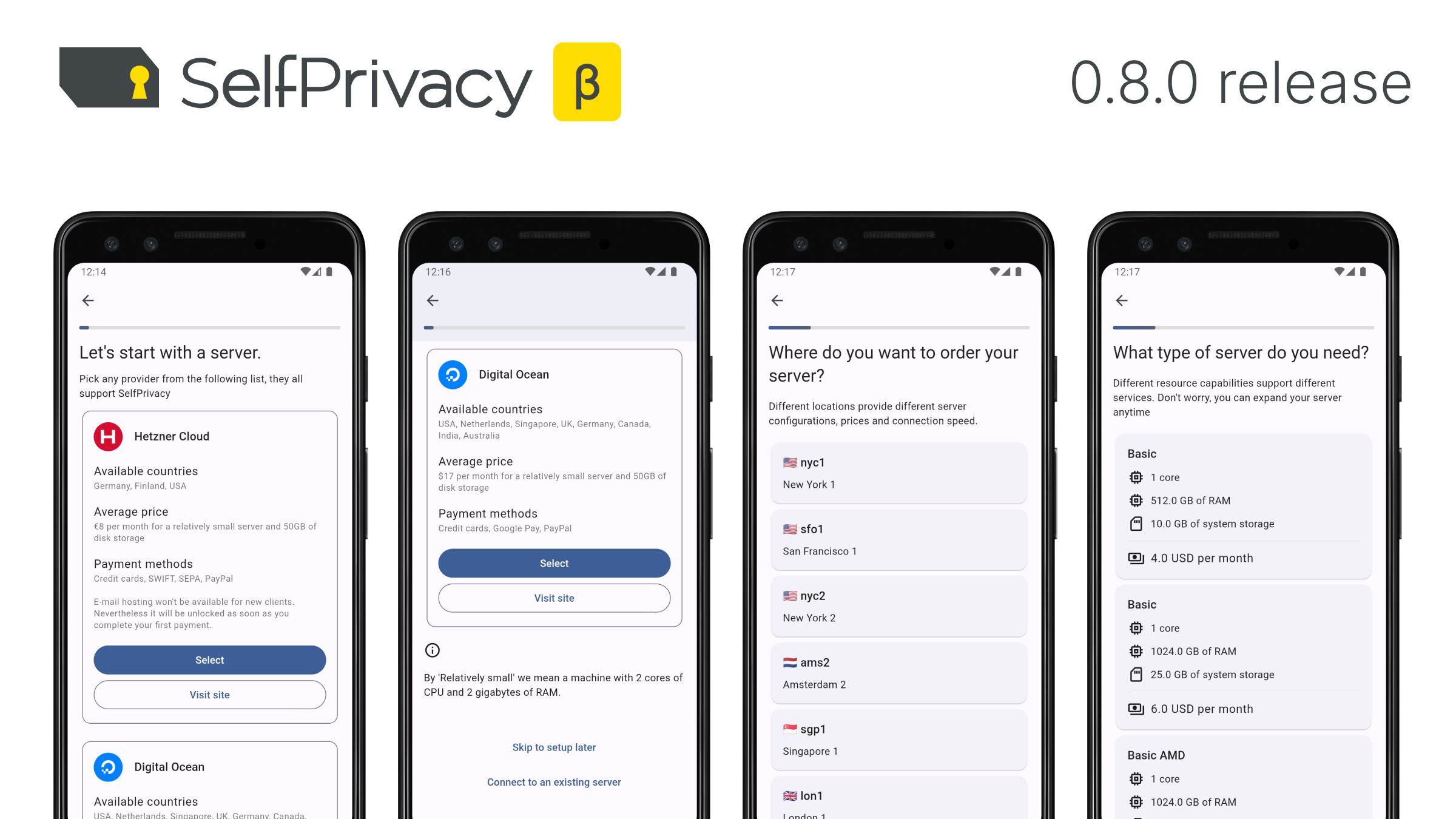 Changes
Server setup:
Added support for Digital Ocean as server provider
You can now choose server region
You can now choose server tier
Server installation UI has been refreshed
Fields now have more specific error messages
Common UI:
New app bar used in most of the screens
Services:
Services are now sorted by their status
Server settings:
Timezone search screen now has a search bar
Fixed job creation when switching the setting multiple times
Server destruction now works
Jobs:
Jobs panel now should take slightly less space
Auth:
Recovery key page can now be reloaded by dragging down
Logging:
Log console now has a limit of 500 lines
GraphQL API requests are now logged in the console
Networks errors are better handled
For developers:
App now only uses GraphQL API to communicate with the server. All REST API calls have been removed.
Server can now be deployed with staging ACME certificates
Language assets have been reorganized
Translations:
Added translation for Ukrainian
Also activated unfinished translations for German, French, Spanish, Czech, Polish, Thai
Version 0.7.0 Release
Monitor disk space usage, move services between volumes, expand server capacity, and more.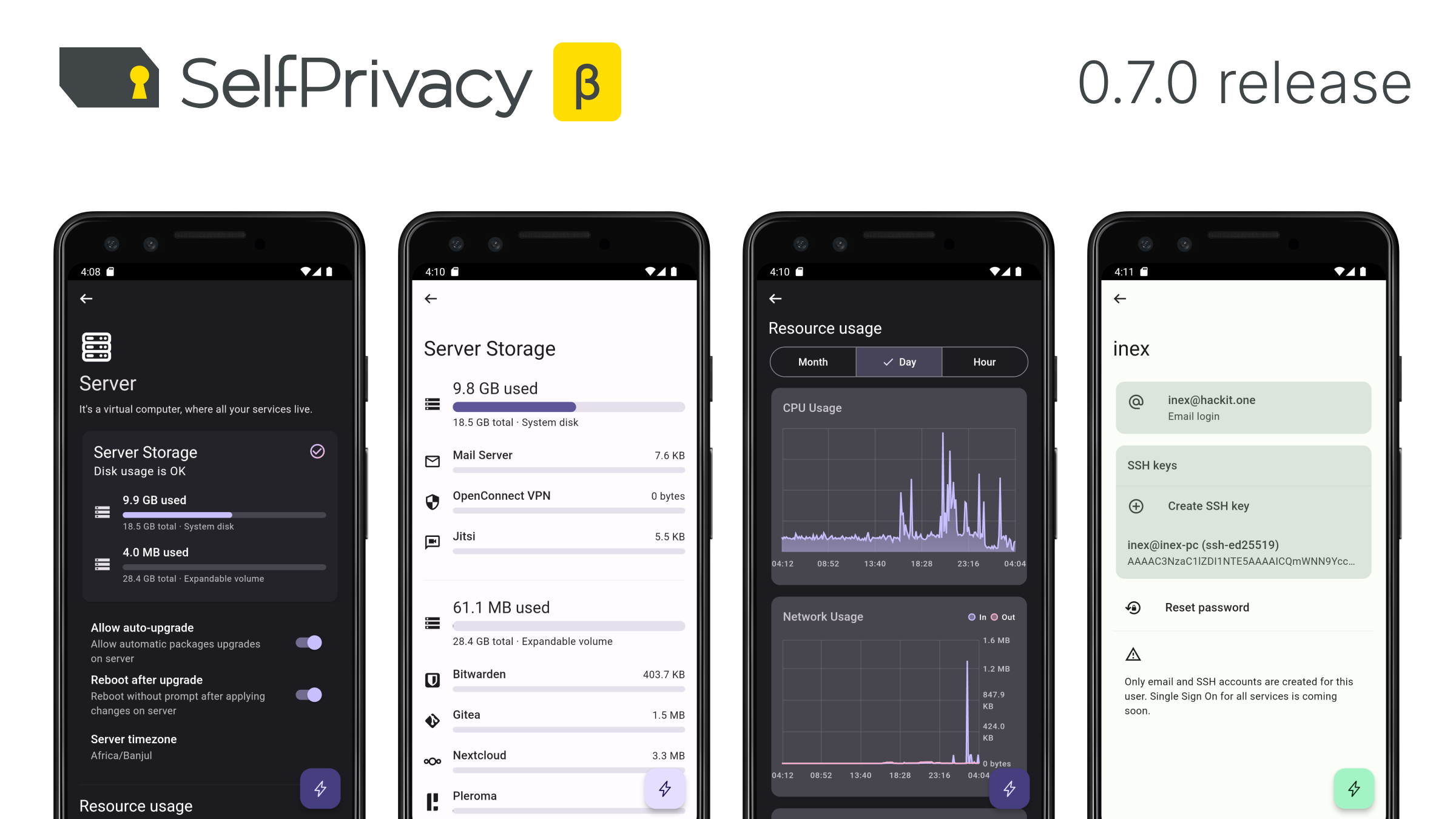 Changes:
Monitor disk space usage, move services between volumes, expand server capacity.
New redesigned server details screen.
User management screens were redesigned too, and you are able to reset users' passwords now.
Automatic update settings and server's timezone can be changed now.
Initial support for SelfPrivacy API 2.0, powered by GraphQL.
User list synchronization bugs are fixed.
App is now able to track some types of the long-running jobs which are performed on the server itself.
Basic support for the new API's service management.
Backups screen is temporarily removed, until we fix it.
Minor UI changes.
Minor bug fixes, architectural changes.
Migration to the new disk management system
We've introduced a new system to control where your services' data is stored, but an initial migration is needed. Without it, you won't be able to move services between volumes.
We highly encourage you to manually back up your data from the server before migrating.
To use the new disk management features properly you have to perform the migration. Go to the "More" tab and tap on the "Start migration" button. This migration is also known as "binds migration" in our internals, and you may see this term if you encounter an error related to this system. If you do, please report it to us, and we will help.
Our own F-Droid repo, nightly builds and desktops
From now on, our app also deployed on our own F-Droid repository, allowing you to get our builds faster.
https://fdroid.selfprivacy.org
This repository contains two apps: SelfPrivacy and SelfPrivacy Nightly. The first one contains release builds, and the second one is for development builds. They may contain bugs, but will allow you to test our new features before release. All three Android builds (Official F-Droid, our own F-Droid and Nightly) are independent and can be installed simultaneously.
You can also try out our experimental desktop builds, available for Linux as Flatpak, Windows and macOS. https://git.selfprivacy.org/kherel/selfprivacy.org.app/releases/tag/0.7.0 Please keep in mind that we cannot guarantee that the app will launch on your distro, and that we have not adapted our UI for desktops yet.
Version 0.6.0 Release
Use SelfPrivacy on several devices.
Changes:
Added support for server access from SelfPrivacy apps installed on several devices.
You can now create recovery token to regain the access to the server if you lose your device or the app's data.
You can now connect to an existing server, instead of creating a new one.
Initial support for Material Design 3 (Material You).
App now uses your system colors on Android 12 (Material You), Windows 10 (accent color) and Linux (GTK colors). While SelfPrivacy works ok on desktops, we won't officially release desktop versions until we refactor our UI to support big screens.
Minor bug fixes.
Version 0.5.0 Release
Manage SSH keys and check reworked DNS management screen.
Changes:
DKIM key is now deployed to DNS during server setup.
Step 1 of server setup (DNS checks) is now faster.
New DNS management screen: checks current records and lets recreate them if something is wrong.
User creation and deletion is now more responsive.
User list is now synchronized with the server.
New SSH key management screen. SSH keys can now be uploaded for any user, including root.
Root SSH key generation is removed, you can now upload your own keys.